Easter Seals of DE/MES Presents Drex Jones Award to TPI CEO, Ernie Dianastasis at Annual Dinner
Ernie Dianastasis, CEO of The Precisionists and longtime board member of Easter Seals Delaware & Maryland's Eastern Shore, was recognized at the 2016 Easter Seals Annual Dinner on Thursday, October 13, 2016 at the Chase Center on the Riverfront.
Easter Seals, a leading provider of services for children and adults with disabilities and their families, presented Dianastasis with the Drex Jones Volunteer Award for his extraordinary service to people with disabilities in the region. The award is given to an individual in recognition of sustained efforts that have had a significant impact on the quality of life for people with disabilities. Dianastasis has been a dedicated and active member of the board for 15 years, serving as Board Chair as well as on key committees, including the CAI / Easter Seals Volleyball Challenge Committee.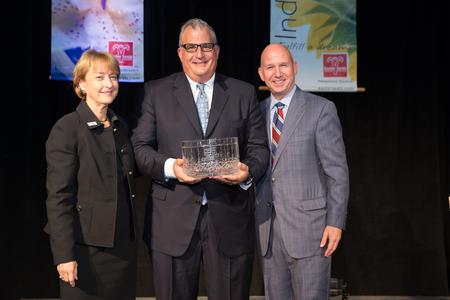 Easter Seals Delaware & Maryland's Eastern Shore offers a range of services, including children's therapies, assistive technology, recreational camping, day programs for adults with physical or intellectual disabilities and respite services for caregivers. To learn more about how Easter Seals helps children and adults with disabilities, call 1-800-677-3800 or visit www.de.easterseals.com.