We are the partner for your journey to implement accessibility, accommodation and respect.
The Precisionists, Inc. (TPI), a B-Corporation, creates jobs for individuals across a broad range of disabilities. Initially, the company is focused on working with those on the autism spectrum, disabled veterans, hearing impaired, and visually impaired. The national company provides industry best practices for delivering administrative and technology services in a nurturing and team-based environment. TPI is heavily committed to creating jobs for individuals with disabilities in all of the markets we serve.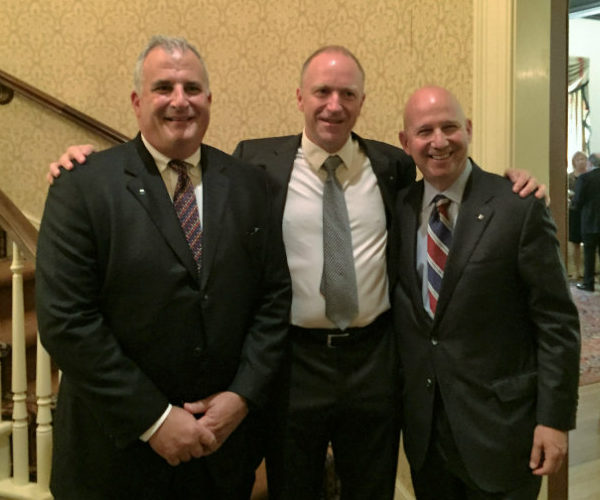 Ernie Dianastasis, CEO of TPI, Thorkil Sonne, CEO of Specialisterne and Jack Markell, Governor of Delaware

B-Corp: A True Commitment to Corporate Social Responsibility
The Precisionists, Inc. (TPI) is incorporated as a Benefits Corporation (B-Corp) in the State of Delaware. B-Corps aspire to use the power of markets to solve social and environmental problems. A Benefits Corporation makes a commitment to pursue both economic and social objectives concurrently and with equal value in a systemic manner as a corporation. By design, a B-Corp is responsible to serve more than just shareholders.
"TPI has been formed with these goals as our key focus. The way that we execute against our mission and treat our employees demonstrates a core value and commitment to a social purpose embedded in TPI's organizational structure, company culture and commitment to best practices.
Our goal to employ 10,000 individuals with disabilities by the year 2025 directly addresses the current employment divide experienced by so many untapped, but capable resources in the U.S. TPI brings our organizational structure, company culture and commitment to best practices to the labor market to improve the opportunities for this underutilized talent pool and to assist companies in filling critical open job opportunities in their organizations. TPI's mission, vision and passion to bridge the employment divide for people with disabilities exemplifies business and leadership joined together as a force for good. It is at our core."
-Ernie Dianastasis- CEO