We are the partner for your journey to implement accessibility, accommodation and respect.
The Precisionists, Inc. (TPI), a Benefit Corporation, creates jobs for individuals across a broad range of disabilities. Initially, the company is focused on working with those on the autism spectrum and disabled veterans. The national company provides industry best practices for delivering administrative and technology services in a nurturing and team-based environment. TPI is heavily committed to creating jobs for individuals with disabilities in all of the markets we serve.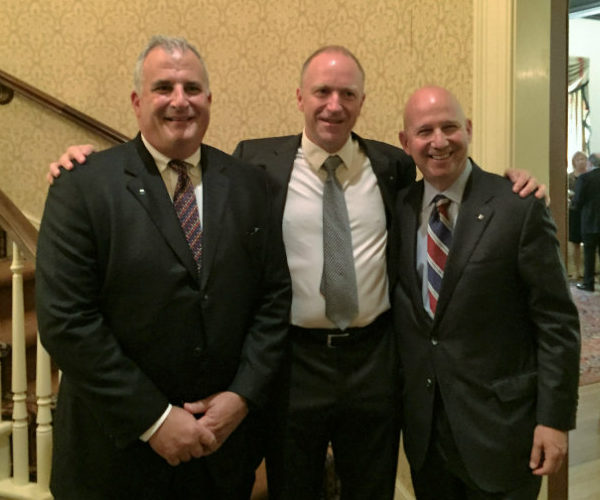 Ernie Dianastasis, CEO of TPI, Thorkil Sonne, CEO of Specialisterne and Jack Markell, Governor of Delaware
An Innovative Employment Model Being Embraced by the Fortune 100
The Precisionists (TPI) is proud to be the autism employment partner of the country's largest pharmaceutical company, Pfizer, the country's largest energy company, Exelon, and one of the largest and one of the most respected global financial services companies in the world, UBS.  Numerous other companies      have joined the movement with us, and are listed on the current client partner page of our website.
In July 2018, The Precisionists, Inc. (TPI) was recognized by the Autism Society of America with the Adam Heavner Award, which recognized the company which has done the most in the country to advance employment opportunities for autistic adults.  This is an amazing accomplishment for a company that    was only founded in 2016.  Former winners of this award include Sesame Street, Royal Caribbean Cruise Lines and the Philadelphia Phillies.
The Precisionists has a highly innovative disability employment model that will create over 10,000 careers for people with developmental disabilities by the      year 2025.  We accomplish this by providing world-class service through best practices in Information Technology and Business Administration Services. Our leadership team has on average over 17 years each of delivery experience in IT and BPO.
Taking the Path Less Traveled Has Made All the Difference!
So how did all this get started?
TPI's incredible accomplishments in just a few years are the result of an interesting journey which started in 2012 for the founder, Ernie Dianastasis.
In July 2012, the Governor of Delaware, Jack Markell, reached out to Ernie Dianastasis, who at the time was running the largest IT services company in Delaware.  He wanted to introduce Ernie to Thorkil Sonne, the Founder and CEO of Specialisterne, a Danish firm globally recognized for their accomplishments with the employment of autistic adults in Denmark.
Governor Markell, who at the time as Chairman of the National Governors Association, was leading an initiative with all 50 governors to employ people with disabilities.  Governor Markell invited Thorkil to the United States, and invited Ernie to his office to meet him.  Ernie and Thorkil had an immediate synergy and began to collaborate on autistic employment.  When Thorkil and his family moved to Delaware, Ernie began working closely with him to adopt some of his innovative concepts from Denmark into his former IT services company.  After creating dozens of jobs for autistic adults and seeing their outstanding performance in terms of accuracy, attention to detail, quality, precision and work ethic, Ernie decided to sell his interest in his former company to start a new company.  In 2016 he created The Precisionists, Inc. (TPI), that would be 100% focused on employing people with developmental disabilities, with a special focus on autism.  The Precisionists not only focuses on creating great IT jobs for autistic adults, but is also much broader in its reach, including other disciplines like back-office accounting, business process operations, quality control, light manufacturing and other functions in addition to IT.  TPI is a national company and has already established Innovation & Technology Centers (ITC) in multiple markets, including Wilmington, DE (Philadelphia) and Nashville, TN. They have aggressive expansion plans in place for the next five (5) years.
Not only does TPI deploy best practices in preparing autistic adults for employment, but because their leadership team is comprised of highly experienced IT and business process practitioners, they also can prepare Fortune 1000 companies on the journey to employing autistic adults by managing risk from the beginning to the end of the employment life cycle.
Please Join Us in Our Quest
Since launching in 2016, TPI has made incredible innovations, improvements and refinements to what was already a terrific model for disability employment. What has now emerged is TPI's world-class best practices model that is being embraced by Fortune 500 companies, as well as emerging organizations.
TPI is on a relentless mission to employ over 10,000 people with developmental disabilities by the year 2025.
Benefit Corp: A True Commitment to Corporate Social Responsibility
The Precisionists, Inc. (TPI) is incorporated as a Benefit Corporation in the State of Delaware. Benefit Corporations aspire to use the power of markets to solve social and environmental problems. A Benefit Corporation makes a commitment to pursue both economic and social objectives concurrently and with equal value in a systemic manner as a corporation. By design, a Benefit Corp is responsible to serve more than just shareholders.
"TPI has been formed with these goals as our key focus. The way that we execute against our mission and treat our employees demonstrates a core value and commitment to a social purpose embedded in TPI's organizational structure, company culture and commitment to best practices.
Our goal to employ 10,000 individuals with disabilities by the year 2025 directly addresses the current employment divide experienced by so many untapped, but capable resources in the U.S. TPI brings our organizational structure, company culture and commitment to best practices to the labor market to improve the opportunities for this underutilized talent pool and to assist companies in filling critical open job opportunities in their organizations. TPI's mission, vision and passion to bridge the employment divide for people with disabilities exemplifies business and leadership joined together as a force for good. It is at our core."
-Ernie Dianastasis- CEO